What is automation ?It places the world of connected things at your fingertips. Easily control the everyday world & make it more intelligent, convenient, secure, safe, efficient, and fun. From control to convenience, office to living room, from your TV screen to the projector screen, you can control more, save more & simplify more effortlessly.
Digital Dreams is
 Affordable
 Convenience rather then luxury
 Modular
 Non-Stagnant platform
 Energy Saving Cost effective
 Unify all of the below !
 Lighting – ON/OFF, Dimming, Fan speed control
 Dimming – Halogen, CFL, TL, PL, LED
 Motorized Mechanism – Curtains, RollerBlinds, Shutter, Projector Screen
 AV Device – TV, Set-top box, Music System, DVD Player, Blue-ray
 HVAC – VRV, VRF, Cassette, Split, Window
 Video Door Phone & Door lock
 Security System & sensors
Integrate any make switch
Control more, save more & simplify more effortlessly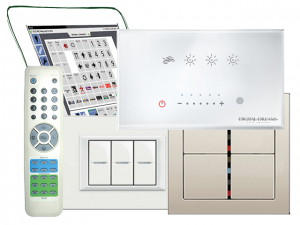 User Interfaces – Switches / IR Remote & Smart Device
Make your own choice from the various user interface devices Digital Dreams has to offer. Find the right switch to match your interiors with Digital Dreams non-proprietary software support which enables one to use any make switches with our platform.
Digital Dreams IR Remote is a handy accessory used to control lighting modules across the home. Though the solution delivers a ground-breaking level of functionality and connectivity the usage is simplified to the core!
With browser based technology use any smart device to control your entire home from tablets to phone — yes even laptops and computers.
Integrated Security & Communication
Now control and monitor the security system right from your Digital Dreams interface. Keep yourself and the home well protected with integrated security system and SIP doorbell. The doorbell allows you to screen visitors from anywhere thus, ensuring peace of mind whether your at home or on vacation.
With integrated Visitor Tracking System get a history of visitor snapshots who had visited your home. Precisely date and time-stamp each one with automated motion detection technology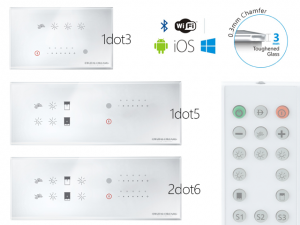 Touch Switches
They are touch-sensitive Control Pads. Or, in other words, Intelligent Switches. That means the most basic models are the modern substitute for conventional switches and switchboards. Except, they are operated by touch. Moreover, they are always at an easy reach even in the dark, thanks to a soft lit-up display. In addition, they come in sleek and stylish designs that can take the luxury quotient of your home a notch higher.
 Capacitive Fan Dimming Technology – No more fan noise at low speed!
 Feather Touch Buttons
 Hybrid Module
 Retrofit
 Toughened Glass with 0.3mm Chamfer
 Infrared, Bluetooth & Wifi Control
 Smartphone / Tablet controlled